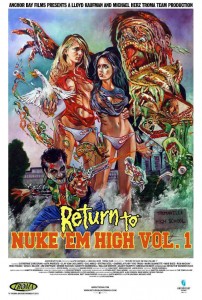 Welcome to Tromaville High School where renowned bad girl Chrissy has unearthed the shady going-ons behind evil food company Tromaorganic Foodstuffs Conglomerate, who have been secretly poisoning the school meals with mutant toxic waste!
When the glee club fall victim to the poisoned tacos and violently morph into a menacing gang of psycho monsters called The Cretins, Chrissy and the new girl in school Lauren must work together to not only fight The Cretins from all sorts of gory mayhem, but also solve the mystery of the evil Tromorganic Foodstuffs Conglomerate before it's too late! Will they save Tromaville High School and subsequently the world?
Return to Nuke 'Em High Vol. 1 is available on DVD from 14 July. To win a copy plus the film's quad poster, please enter particulars below.
---